Janne Heegaard is well known for her line of high quality handmade individually designed swimwear. Since 1970 she has sold thousands of sexy, fun and high demanded bikinis.
Janne started making clothes long before most can even thread a needle. At the tender age of three she was already designing for her dolls and teddy bears. As a child she also made her own outfits because she didn't like the clothes in the shops. Janne found her vocation at school sewing bell-bottom pants for all her friends. Her talent was recognised and she was soon able to make a decent living with her sewing machine.
Janne first came to Ibiza in 1968. She didn't even know where it was on the map but was told by a guy to 'just get the ferry from Alicante'. She recalls being the only fair-haired person on the boat and how people were treating her like royalty because they had never seen a blonde before. They were handing her beefsteaks on forks and plates of clams. The Danish blonde quickly found a job dancing in Lolas for 200 pesetas (1,20€ a night!). It was here where she met her husband, Robin, a musician who performed there also. Two months after meeting they got married – a spontaneous decision that proved to be the right choice. Robin and Janne are still married and have a daughter, Jasmine, who was born in 1985.
 
Ibiza town in the 1970s belonged to the locals. Most tourists who came to the island on package holidays were scared of going to Dalt Villa, so they would book a guided tour to 'go and see the hippies'. Janne used to put flowers in her hair and pose for photographs in the old town.

The tourists would pay 20 pesetas (0,12€) for a photo with a "real hippy". Her real income during this time however came from a dancing job at the Playboy club in San Antonio. Janne danced from midnight until 4am and when she wasn't dancing she made bikinis. During the day she would sell them on Las Salinas beach. Apparently she never slept!
Janne may well have been one of the creators of the tanga, which many think comes from Brazil. She made her first tanga for a character called Juan Carlos who used to roll up his shorts to get a buttock tan. Janne designed him a brief and the fad soon caught on. Juan Carlos went to Rio de Janeiro in 1972 and showed off his tanga on Copacabana beach but lo and behold the Brazilians weren't impressed. He was arrested and thrown into jail. Go to the same beach now and you'll be hard pressed to find someone who's NOT wearing a tanga.
Janne also wrote history by gaining an exclusive permit by the owner of the Salinas to sell on Las Salinas and Es Cavallet beaches. She later went to Formentera where she used to walk 8-10 km a day carrying her bikinis on her arm – a weight of around 14 kilos. She says she liked it because it gave her a good arse and kept her fit and that all she does now is walk around the table looking for the scissors. Everyone agrees that Janne still has a very impressive behind.
Nowadays Janne Ibiza is a stablished brand admired and respected by all good quality swimwear lovers. The brand has been given coverage in international press such as Elle Magazine in Italy.
PRESS
"Il must have dell'Isola: ovvero non potete tornare da Formentera senza aver comprato un bikini ormai cult fra le star che sbarcano ogni anno sull'isola. Sono quelli favolosi e molto mini di JANNE IBIZA che dal 1970 realizza a mano, nella sua boutique ora e in spiaggia prima." Elle Magazine Italia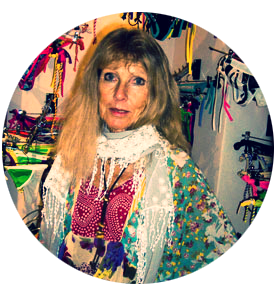 Janne Heegaard,better known as "Jana",and now famous for her original and exciting range of tangas and bikinis, arrived in Ibiza and went directly to Formentera in 1968. She was one of the first "go-go" girls on Ibiza, and would always take her sewing machine with her to work, so that she could sew tangas in between dancing! Together with her daughter, who has inherited the same flair for designing eye catching creations, they continue to produce a wide range of continually changing and evolving models, using only high quality materials.
She runs part of the company, continually designing new pieces and combinations of colours that reflects the best in contemporary fashion. With her young spirit and creativity she brings new ideas and concepts to the well stablished brand. The production has now broadened and now offers a wide selection of high quality handmande swimwear.